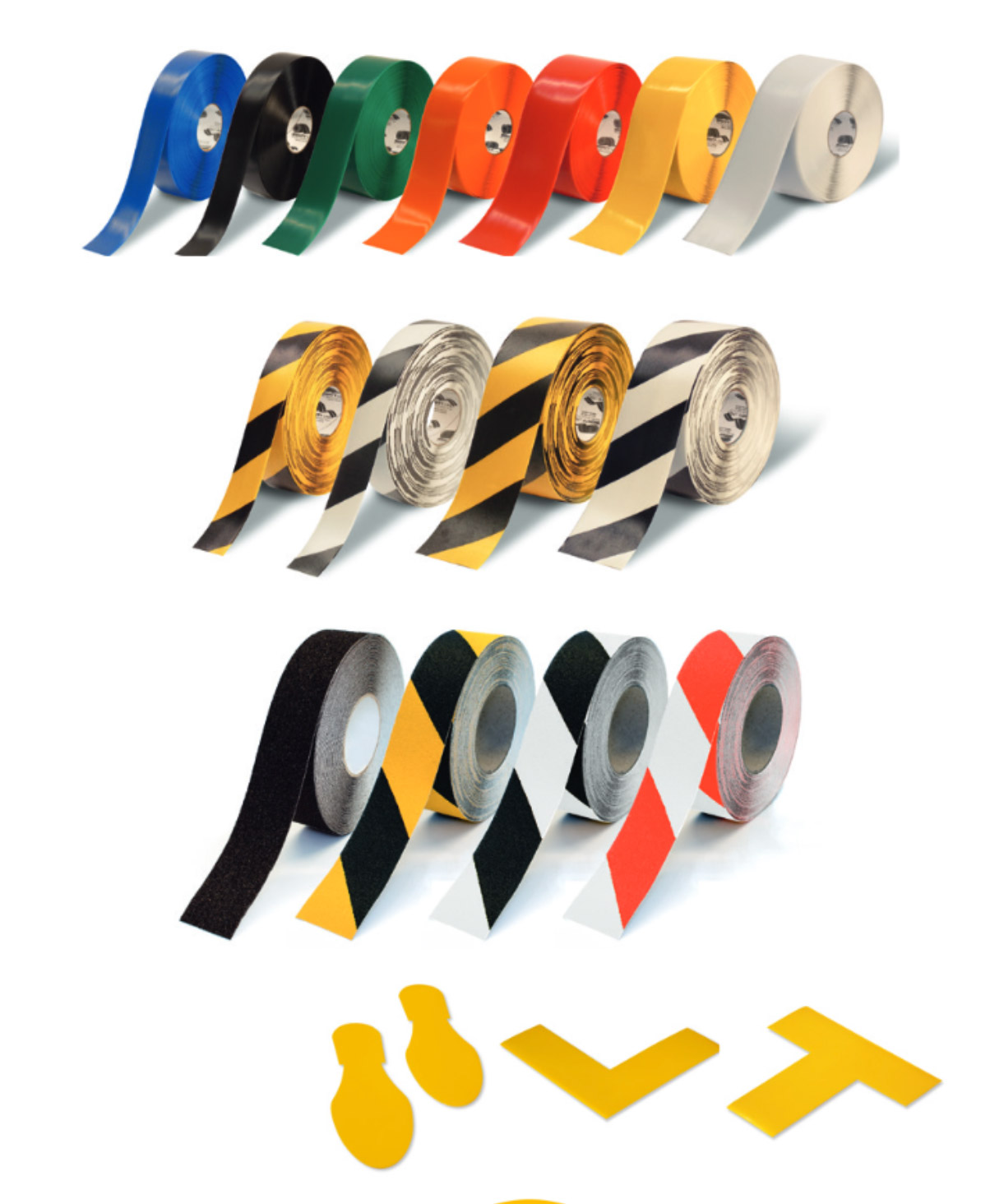 Marking sign – PICTO
Reduce the risk of workplace contamination for your employees and visitors by using the PICTO floor markings!  Encourage workers and visitors to practice good hygiene by washing their hands and maintaining social distancing.
The PICTO floor markings are ideal for reinforcing measures against the spread of an infectious disease in the workplace. Thanks to the large diameter and striking design with modern look and feel, they grab the attention of all passers-by and can be seen from a long distance.  Made of industrial-grade PVC, BOPLAN® PICTO floor markings have a long lifespan and can be used in wet environments.
The easily removable backing sheet of the sticker ensures a quick and easy application.
Marking Tape
LINE PLAN solid colored floor tapes are the most popular tapes we offer. Our LINE PLAN floor tapes come in multiple sizes, colours and patterns.
Use LINE PLAN floor tapes keep your facility neat and organized, as well as enhancing your facility's overall visual appearance.
Marking Tape Cross
By contrasting 2 standard colors in a diagonal fashion, LINE PLAN has constructed a floor tape that allows employees to be made aware of possible danger zones within the work area. Our cross tape is offered in the multiple colours.
Marking Tape Center
Not satisfied with the variety of our solid colored LINE PLAN floor tapes? Use our two tone center-line tapes to customize your facility. LINE PLAN also offers a variety of glow-in-the-dark center line floor tape offered in multiple standard colors. Glow-in-the-dark highlighted exit ways allow for workers to safely leave the area free of injury and worry due to unexpected power shortages.
Marking Tape Antislip
LINE PLAN offers a full range of functional, slip-resistant tapes suitable for industrial applications in dry, wet or oily conditions.
Marking Sign – L / T
LINE PLAN 5S Floor Marking L's & T's are great for marking off pallets and machinery rows. Use the LINE PLAN floor tape angles to mark your facility in different sizes and colors. LINE PLAN floor tape L's & T's have a peel and stick adhesive.
Marking Sign – Dot
LINE PLAN 5s floor tape dots are great in high traffic areas where skids are dragged or pulled, reducing scraping and other damage. LINE PLAN floor marking dots are also great for making curved lines.
Marking Sign – Foot / Arrow
LINE PLAN 5s floor marking footprints and arrows are great for marking pedestrian aisle ways or segregating certain areas inside your 5s facility. LINE PLAN floor tape footprints are peel and stick and remove cleanly. Tell workers which area in the warehouse they are walking through with different color standards of footprints in your facility. Glow-in-the-dark center lines are available as well.